Description
Installation Instructions
Payment & Security
Your payment information is processed securely. We do not store credit card details nor have access to your credit card information.
Customer Reviews
12/05/2020
Hal A.

United States
Light Not Bright Enough
The concave lens makes it easy for others to see me riding my Ebike from the side, but the light isn't quite bright enough on the darkest streets. I have to slow way down in order to ride safely. I've hooked up an additional headlight with a rechargeable battery to work in conjunction with this headlight. The horn on the other hand works great. Motorists can hear it even with their windows rolled up.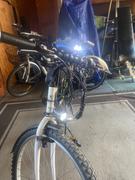 08/28/2021
Jesse P.

United States
Headlight and horn
Working as expected, brighter than others