Ebike 48V 1200W Waterproof Brushless Controller LED/LCD
---
Description

48V Controller with 30 Amps suited for ~1200W kits. Suitable for 810 LED and S830 Displays. Match the controller with your original received in the kit or match voltage and amps with the motor you purchased alone. Be sure you have 810 LED or S830 LCD display when ordering your controller. Controller is 36/48 volts compatible. The controller comes with an SY60 male type battery connector (Compatible with XT60 connectors)

Ebikeling Electric Bicycle we have the controller with 3 different voltages and 4 different power outputs. Match the controller with your original received in the kit or match voltage and amps with the motor you purchased alone. A larger Amp controller can always be used without any side effects other than cooler operation, a motor will pull the same Amps under same voltage. The voltage of the battery and controller must match.

Note: Please check our installation menu on our website for the diagram of these controllers.

(No matching battery connectors or adapters included)

Compatible with the Ebike Conversion Kits


 




Tags

Ebike Conversion Kits - Ebike Batteries - Ebike Accessories - Ebike Cables and Spare Parts
Customer Reviews
02/11/2021
jordan h.

United States
1200 watt ebike kit
I got a 1200 watt ebike kit from ebikeling for Christmas. The install was very easy, took me about four hours to get everything in and done nothing has been a problem so far. super fun to ride I recommend this product to anyone wanting to get back into biking or wanting to get into ebike. I'm not sure what the top speed is but the electric motor gets me up the hill fast and I am a 260 lb guy.
01/29/2021
Dil

United States
Waist of money
This controller never worked and I'm sure it fried my bafang 750w motor I'm really ****** and hope no one els has to go through this bs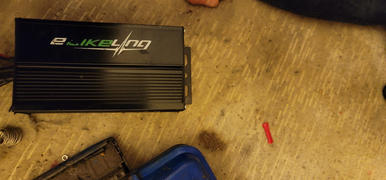 Hi, As far as we understand you are pretty new to ebikes and conversion kits. Kindly send the unit back for a refund. And please contact your motor/ kit supplier for assistance. Hopefully they can help you to understand that the problem has nothing to do with the controller and show you how to fix this simple issue. Have a nice day...
07/13/2021
Vincent H.

United States
Happy customer
It's smaller and seems more responsive than the one I replaced