Description
36V 12.8Ah Bottle Battery Specifications:

| | |
| --- | --- |
| Cell Model | LG MH13200 |
| Cell Voltage & Ah | 3.7V 3200mah |
| Number of cells | 40 |
| Series & Parallels | 10S4P |
| Nominal Voltage | 36V |
| Internal Impedance | 100mΩ |
| Max Charge Voltage | 42V |
| Max Charge Current | 4A |
| Min Discharge Voltage | 30V |
| Rated Discharge Current | 20A |
| Max Discharge Current | 30A |
| Overcurrent Protection | 35A |
| Charging Mode | CC/CV |
| Charge Temperature | 0-45℃ |
| Discharge Temperature | -20-55℃ |
| Recommended Motor Watt | Up to 750W |
| Product Weight | 6lbs 7oz |
| Product Dimension | 13x4x4 |
All the batteries sold on ebikeling.com come with a charger.

TIPS:
The LED light on the charger remains RED while charging and turns green when the battery is fully charged or disconnected. 
A fully depleted lithium-ion ebike battery may take around 6 hours to recharge. It will take less if the battery has a partial charge when you start charging it. 
Do not leave the battery on the charger for long periods like several days or more.
Do not store an empty battery in case you need to store it for some reason. Store it 50-70 percent charged. 
Charge your ebike battery regularly. You do not have to let the battery discharge completely.
Installation Instructions
Payment & Security
Your payment information is processed securely. We do not store credit card details nor have access to your credit card information.
Customer Reviews
03/02/2021
earl w.

United States
36v/11.6 ah 500watt geared motor
Fun, This is my first time ever riding an electric bicycle. I'm 67 and live a little less than a mile from a bike rail trail, The Swamp Rabbit Trail. After my heart attack there's a hill between my house and the trail I'd given up on. Just too much. I'd get off and push. This year, I put the ebikeling kit on a 6ku Canvas Hybrid. Getting the fifteen or sixteen parameters setting up the s830 /controller for me took a few days to understand. The 5 levels can be thought of as speed. If you're in level 1 and max the throttle, all you're gonna get is level1, about 8mph.. Sounds simple right? Keep plugging at YouTube. OK, on to the fun part. I decided to ride last weekend. It was pretty warm and if I just fooled around with the bike I wasn't going to get my exercise. So I went down to the trail. I'm using level 2 and that's topping out at about 15mph or so. Really I took it down some. There's a 20mph limit on the trail. No problems I'm just cruisin' enjoying the scenery.. Not winded or tired. Like power steering for the pedals. The way back was the same. Easy Peasy. Then getting off the trail there's the hill. Fairly long, kinda steep. I used to try the lowest granny gear and even that would wear me out almost at the top, but not today. I'm taking it easy and although PAS 2 is working ok, thought I'd kick it up, 3, 4, 5! OK, now with the wind blowing against me and a steep hill, I'm making 15mph with no slowing down. Once I make the turn to the house, a flat piece I thought I'd see what it would do. 25Mph, but the bicycle wasn't in high gear either. In short, very pleased with this 36v 500watt system, Oh by the way still at 100 percent after 10 miles.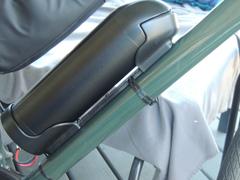 Hi, We appreciate your feedback. Happy to know that you are enjoying the ride.
06/11/2021
Anthony G.

United States
Great Battery. Light weight.
This worked very well! Light weight and easy to mount.