Roll over image to zoom in
Description
YOU CAN CONVERT ALMOST ANY BIKE INTO AN ELECTRIC BIKE
Affordable and powerful kit options, the comfort of the smooth installation process are only a few good things to start explaining what we're offering here at eBikeling.
We are offering a variety of power options that suits your lifestyle.
A commute, a day at the beach, or a late-night hangout with your buddies, you will enjoy the ride and make great memories on the way with Ebikeling.
Choose your bicycle tire size, easily convert your bike and enjoy your ride!
SPECIFICATIONS
The aluminum double-walled rim and hub motor are already attached in the box. Kits are ready to install right out of the box, all you need to do is replace them with the original tire.
The wheel axle diameter is 10 mm. Steel forks can be filed if the axle does not fit into the dropout because of its slightly larger diameter. Please do not file more than necessary and make sure that it does not damage the forks. Aluminum forks can also be filed with extra caution.
Aluminum rims have openings for a Schrader-type valve. The kit doesn't have a regen brake option.
The controller comes with an SY60 male-type battery connector (Compatible with XT60 connectors).
PAS/Brake Levers are optional. Kits will operate without them. You will be able to use your own brakes.
ENJOY THE COMFORT OF YOUR NEXT JOURNEY IN EVERY WEATHER CONDITION!
The waterproof ebike conversion kits are more reliable than regular ebike conversion kits in difficult weather conditions. They are designed to take a ride in the rain or snow.
FEEL THE POWER!
Still think you would struggle to ride in difficult conditions? Let us make your ride much easier. Oh did you say hills? Peh!
At eBikeling, we're offering you a nonstop adventure experience. No more brakes in the middle of your ride because you feel tired!

BATTERY IS NOT INCLUDED IN THIS KIT
(If you're interested in a complete kit with a battery, kindly check the "Ebike Conversion Kit with Battery" page)
Shipping: Shipping to Hawaii, Alaska, APO, FPO, Puerto Rico will be extra. For shipping charges outside the lower 48 US states contact us first.
Installation Instructions
Payment & Security
Your payment information is processed securely. We do not store credit card details nor have access to your credit card information.
Customer Reviews
07/21/2021
K A.

United States
1500 W ebikeling rear wheel direct drive kit - tons of problems
Overall experience has been disappointing. Had the following problems and reached out to e-bikeling. Nobody picks up the phone. Not sure how to resolve It looks like they shipped me a bad controller. This was an upgrade to my RadCity - replaced the 750W rear direct drive Shengyi +35 A controller with this kit. Problems noted: 1) PAS does not work well. The power swing rapidly from 0 W to 1500 W in level 3 (I used a 3 level PAS option). Hugely problematic when climbing a moderate hill. 2) Throttle mode also has an issue. - Same power swing and sometimes loss of power. Battery voltage is fine. 3) The front lights are on all the time. I turned it off using the TFT display but still the light is on.
07/17/2021
Shawn N.

United States
Exceeded Expectations
I bought this kit because I really wanted an ebike but they are normally so expensive. With this kit I was able to easily convert my Schwinn to an ebike (even with no directions). Everything worked perfectly right out of the box and I love the digital display. The top speed on flat ground was significantly higher than I thought it would be and the motor has no trouble with any hills I've encountered. This was well worth the money.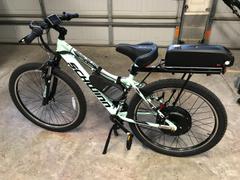 04/02/2021
Mary J.

United States
Great product and service
Great way to add ebike power to your favorite bike. I had a question with the setup and they answered promptly and solved the problem. We bought a second kit for my wife's bike.