Roll over image to zoom in
Description
YOU CAN CONVERT ALMOST ANY BIKE INTO AN ELECTRIC BIKE
Affordable and powerful kit options, the comfort of the smooth installation process are only a few good things to start explaining what we're offering here at eBikeling.
We are offering a variety of power options that suits your lifestyle.
A commute, a day at the beach, or a late-night hangout with your buddies, you will enjoy the ride and make great memories on the way with Ebikeling.
Choose your bicycle tire size, easily convert your bike and enjoy your ride! 
SPECIFICATIONS
The aluminum double-walled rim and hub motor are already attached in the box. Kits are ready to install right out of the box, all you need to do is replace them with the original tire.
The wheel axle diameter is 10 mm. Steel forks can be filed if the axle does not fit into the dropout because of its slightly larger diameter. Please do not file more than necessary and make sure that it does not damage the forks. Aluminum forks can also be filed with extra caution.
Aluminum rims have openings for a Schrader-type valve. The kit doesn't have a regen brake option.
The controller comes with an SY60 male-type battery connector (Compatible with XT60 connectors).
PAS/Brake Levers are optional. Kits will operate without them. You will be able to use your own brakes.
ENJOY THE COMFORT OF YOUR NEXT JOURNEY IN EVERY WEATHER CONDITION!
The waterproof ebike conversion kits are more reliable than regular ebike conversion kits in difficult weather conditions. They are designed to take a ride in the rain or snow.
FEEL THE POWER!
Still think you would struggle to ride in difficult conditions? Let us make your ride much easier. Oh did you say hills? Peh!
At eBikeling, we're offering you a nonstop adventure experience. No more brakes in the middle of your ride because you feel tired!

BATTERY IS NOT INCLUDED IN THIS KIT
(If you're interested in a complete kit with a battery, kindly check the "Ebike Conversion Kit with Battery" page)
Shipping: Shipping to Hawaii, Alaska, APO, FPO, Puerto Rico will be extra. For shipping charges outside the lower 48 US states contact us first.
Payment & Security
Your payment information is processed securely. We do not store credit card details nor have access to your credit card information.
Customer Reviews
06/11/2021
Anthony G.

United States
Great product, Even Better Service
Purchase this product a year ago and have enjoyed it daily ever since. Super easy kit to install. Light weight and the performance of this 500W / 36V geared hub is better than some 1000W 48V motors I've purchased elsewhere. Love the product. At times, almost too fast for a bicycle ~ 25 mph. Here's the best part - I purchased another kit a month ago. When assembled, there were malfunctions, and Ebikeling responded IMMEDIATELY with shipping labels to replace it. Received immediate refund. Ordered a new kit (when available) and there was an issue with controller. They IMMEDIATELY shipped out a new controller without hesitation, which worked great. There are hundreds of ebike vendors from which to choose. Had I ordered from a vendor overseas, I might still be waiting on my refund, much less a new kit or needed parts. Ebikeling sets itself apart with responsive service and standing behind the products they sell. I will buy from them in the future. Thank you - Tony Giovannetti.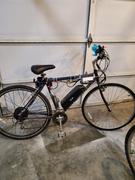 03/10/2021
Gary E.

United States
Fun! Fun! Fun!
I didn't want a ready made ebike as many came with proprietary batteries, and I already had a decent 21 speed bicycle. I bought the 500 watt kit for my Schwinn hybrid bike, and a 36v battery on Amazon. Here in midlands South Carolina, the hills can be exhausting to climb. No more. Set throttle to 3 and pedal normally. I had a problem with my speedometer, a year later, and they helped fix it, by changing the parameters in settings. Highly recommend this kit, for the money.
02/09/2021
Sergio A.

United States
3k+ miles and still running
Great kit, got the 500 watt 36v, now running 48v with the help of ebikeling support, I'm at 3k+ miles, I use it to deliver food, great investment