Description
Installation Instructions
Payment & Security
Your payment information is processed securely. We do not store credit card details nor have access to your credit card information.
Customer Reviews
12/03/2020
Myron S.

United States
I converted/upgraded my long wheelbase USS recumbent using an eBikeling rear geared hub motor kit. It was easy to install; help was available via email when needed; they responded promptly and generously when I had questions. Very satisfied and have installed similar kits for wife and two friends with easy positive outcomes.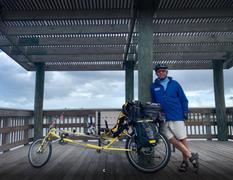 12/03/2020
Keon T.

United States
12/03/2020
Josh P.

United States
500W 26" geared front Ebikeling conversion kit. The kit installs easily and the performance is amazing for the price. I've been using the installed kit for over 6 months with a DIY battery and am able to easily cruise at 35 km/h for extended periods without issue. The kit comes with a throttle as well as a pedal assist sensor and I find myself using both quite often to quickly accelerate and cruise at a constant speed. The screen is also very nice and displays speed, battery level, voltage, current, and more. Definitely recommend Ebikeling.