Roll over image to zoom in
Description
Electrical Parameters
3.2inch IPS screen 24V/36V/48V/52V battery supply.
Rated operating current : 40mA
Off leakage current < 1uA
Max output current to controller : 100mA
Operating temperature : -20~70℃, Storage temperature : -30~80℃
Features
High-contrast 3.2inch IPS colorful matrix screen.
Ergonomic external button design, easy to operate.
Speed display: AVG SPEED, MAX SPEED, SPEED (Real-time).
Kilometer / Mile: Can be set according to customers' habits.
Smart battery indicator: Provide a reliable battery indicator.
9-level Assist : 3-level/5-level/9-level /UBE(6-level) optional.
Mileage indicator: Odometer/ Trip distance/ Clock/ Riding time/ Range.
Power indicator: real time power indicator, digital or analog.
Error code indicator.
Software upgraded: Software can be upgraded through UART.

Compatible with the Ebike Conversion Kits

Warranty
All items are covered under our 3-Month warranty
Payment & Security
Your payment information is processed securely. We do not store credit card details nor have access to your credit card information.
Customer Reviews
03/22/2021
Chuck B.

United States
TFT750e is awesome
750 works great!!, very accurate with my 26" cruiser, I run a 52v battery with the 48v 1500 wheel everything works perfectly and my bike hauls butt and lasts way beyond what I expected!!, do your homework and set your bike up correctly and you won't be disappointed!, I love my bike and im getting ready to build a fat tire now, thanks for all your help AA+++!, Chuck B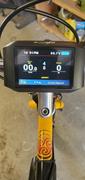 02/21/2021
Ncosmany .

United States
Good information but not accurate
The company has been great to deal with. But this screen is not accurate as stated by another review. I am supposed to set the magnet number to 99. If I do that the bike is doing 75 mph in pas 1. It's a 500w motor. Trying it at 20 and 27" tire. Not worth the money but the information it provides is great. Screen is clear.
02/03/2021
Michael F.

United States
TFT 750C Review
The TFT 750C is disappointing. The speed/milage is not accurate. I have 700c wheel. I needed to select a 20" wheel to get a speed/milage reading that was close, but not accurate. Also, the software is not upgradable as stated on the Ebikeling webpage. The 750C manual on the website does not match the software on the unit. The display screen is clear but barely bright enough in sunlight. I would like to try the alternate display screen, but it's not available on the Ebikeling version. All things considered, not worth the money.
Hi Michael, We're sorry this product did not work for you. The kit was tested here in the facility and everything works good after some minor adjustment on the display parameters. The amount has already been refunded as you know. We apologize for the inconvenience once again. Have a nice day.