Ebike 48V 52V Waterproof TFT 750C - Color LCD Display
---
Description

Electrical Parameters

3.2inch IPS screen 48V/52V battery supply.

Rated operating current : 40mA

Off leakage current < 1uA

Max output current to controller : 100mA

Operating temperature : -20~70℃, Storage temperature : -30~80℃

Features

High-contrast 3.2inch IPS colorful matrix screen.

Ergonomic external button design, easy to operate.

Speed display: AVG SPEED, MAX SPEED, SPEED (Real-time).

Kilometer / Mile: Can be set according to customers' habits.

Smart battery indicator: Provide a reliable battery indicator.

9-level Assist : 3-level/5-level/9-level /UBE(6-level) optional.

Mileage indicator: Odometer/ Trip distance/ Clock/ Riding time/ Range.

Power indicator: real time power indicator, digital or analog.

Error code indicator.

Software upgraded: Software can be upgraded through UART.



Compatible with the 1200 and 1500W eBikeling kits.
Customer Reviews
03/22/2021
Chuck B.

United States
TFT750e is awesome
750 works great!!, very accurate with my 26" cruiser, I run a 52v battery with the 48v 1500 wheel everything works perfectly and my bike hauls butt and lasts way beyond what I expected!!, do your homework and set your bike up correctly and you won't be disappointed!, I love my bike and im getting ready to build a fat tire now, thanks for all your help AA+++!, Chuck B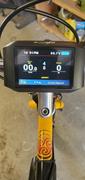 06/03/2021
Robert S.

United States
Upgraded display for 52v
The original display I had didn't support a 52v battery correctly. This one works great with a 52v battery and provides some additional features that can be enabled like a Pin lock when first turning on. Was a simple install with minimal setup. I had some initial issues with the shipping service but ebikeling was quick to resolve.
02/21/2021
Ncosmany

United States
Good information but not accurate
The company has been great to deal with. But this screen is not accurate as stated by another review. I am supposed to set the magnet number to 99. If I do that the bike is doing 75 mph in pas 1. It's a 500w motor. Trying it at 20 and 27" tire. Not worth the money but the information it provides is great. Screen is clear.
Ebike LCD displays for Sale