Roll over image to zoom in
Description
Waterproof 48V 1500W Rear Direct Drive Conversion Kit: 26" LED-LCD Display, Thumb-Twist Throttle
Introducing our 2019 model conversion kits. A complete waterproof system from connectors to the motor ensuring reliability and efficiency. We have also introduced new products like the S830 LCD display along with the 26"- 700C  Conversion Kit

eBikeling Direct Drive Brushless Electric Bicycle Conversion Kits come with a 1500W hub motor and a 35Amp controller.
Kits are ready to install with aluminum double walled rim and hub motor are already attached. All you need to do is to transfer original tire.
We have two throttle control options to choose from, twist or thumb.
There are several other accessories included to complete this ebike kit such as pedal assist sensor, or a set of brake levers with safety cutoff switches.
Waterproof
The wheel axle diameter is 10 mm.  Steel forks can be filed If the axle does not fit into the dropout because of it's slightly larger diameter. Please do not file more than necessary and make sure that it does not damage the forks. Aluminum forks can also be filed with extra caution. 
Aluminum rims have openings for a schrader type valve.
Kit doesn't have regen brake option.
The controller comes with an SY60 male type battery connector (Compatible with XT60 connectors)
PAS/Brake Levers are optional. Kits will operate without them.
You will be able to use your own brakes and freewheel.
Recommended tire width: 1.75", 1.95", 2.125" (26") - 28C, 32C (700C) 
Rim Width (Inner): 19mm
Rim Diameter (Outer): 572mm (26") - 633mm (700C)
Rim Diameter (Inner): 522mm (26") - 583mm (700C)
Spoke: 159mm (26") - 188mm (700C) 12G Carbon Steel Copper Nipples
Rear dropout: 135mm
Rear Axle Length: 209.5mm 
Motor Wheel Weight 15.3lbs
Motor Torque: 40 Nm Efficiency > 82%
Motor RPM (Nominal): 560 
Motor Hub Diameter: 242mm
Motor Magnets: 46 
Peak Power: 1.89kW
Operating Mode: S1
Package Includes
Direct Drive Brushless Hub Motor
Brushless Motor Controller (No matching battery connectors or adapters included)
LED or upgraded LCD Display
Twist or Thumb Throttle
Pedal Assist Sensor
Freewheel (for rear kit)
Two Brake Levers with safety switches, V type and Disc brake compatible
Torque arm
Tube liner
Installation hardware and zip ties
Batteries not included
Shipping: Shipping to Hawaii, Alaska, APO, FPO, Puerto Rico will be extra. For shipping charges outside lower 48 US states contact us first.
Warranty: All items are covered under 3 month warranty. 




Tags
Ebike Conversion Kits - Ebike Batteries - Ebike Accessories - Ebike Cables and Spare Parts
Payment & Security
Your payment information is processed securely. We do not store credit card details nor have access to your credit card information.
Customer Reviews
01/03/2021
Jerry L.
United States
5 star kit very good
This is a 5 star E bike kit very powerful Very quiet lots of torque My next kit will be there 3000 watt 48 volt kit this summer Excellent customer service always answers all my questions I couldn't buy another Kit from another company
12/25/2020
Jose H.
Venezuela
Five stars!
Amazing kit, powered by more than 2 hp. Great quality, easy to install electric connector isolate. Silent, powerful. I install the kit 48 vol 1500 watts. on my Giant 26'' bicycle (few years old bicycle). Very easy install with a 52 vol. 21 amp battery, getting a max speed of 58kph on flat surfaces (It is possible to reach more but it's dangerous because of the lightweight) and climb on hills of 35 degrees angle with power authority, useful specially were I live. An amazing motion machine, great waterproof connectors allowed me to go on during a light rain but of course not in storm, just be cautious with the wet floor. In general it's the best E-bike kit on the market actually. highly recommend, love it, I will buy it again for sure.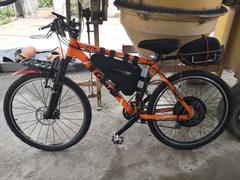 12/10/2020
scott w.
United States
e bike build
happy with kit , all went well,