Roll over image to zoom in
Description
Waterproof 48V 1200W 26" Direct Drive Conversion Kit: Front-Rear, LED-LCD Display, Thumb-Twist Throttle
Introducing our 2019 model conversion kits. A complete waterproof system from connectors to the motor ensuring reliability and efficiency. We have also introduced new products like the S830 LCD display along with the 26"  Conversion Kit

eBikeling Direct Drive Brushless Electric Bicycle Conversion Kits come with a 1200W hub motor and a 30Amp controller.
Kits are ready to install with aluminum double walled rim and hub motor are already attached. All you need to do is to transfer original tire.
We have two throttle control options to choose from, twist or thumb.
There are several other accessories included to complete this ebike kit such as pedal assist sensor, or a set of brake levers with safety cutoff switches.
Waterproof
The wheel axle diameter is 10 mm.  Steel forks can be filed If the axle does not fit into the dropout because of it's slightly larger diameter. Please do not file more than necessary and make sure that it does not damage the forks. Aluminum forks can also be filed with extra caution. 
Aluminum rims have openings for a schrader type valve.
Kit doesn't have regen brake option.
The controller comes with an SY60 male type battery connector (Compatible with XT60 connectors)
PAS/Brake Levers are optional. Kits will operate without them.
You will be able to use your own brakes and freewheel.
Recommended tire width: 1.75", 1.95", 2.125"
Rim Width (Inner): 19mm
Rim Diameter (Outer): 572mm
Rim Diameter (Inner): 522mm
Spoke: 159mm 12G Carbon Steel Copper Nipples
Rear dropout: 132mm
Rear Axle Length: 207mm
Front Axle Length 173mm
Front Dropout: 98mm
Motor Wheel Weight 12.9lbs
Motor Torque: 30 Nm Efficiency > 82%
Motor RPM (Nominal): 430 
Motor Hub Diameter: 242mm
Motor Magnets: 46 
Peak Power: 1.45kW
Operating Mode: S1
Package Includes
Direct Drive Brushless Hub Motor
Brushless Motor Controller (No matching battery connectors or adapters included)
LED or upgraded LCD Display
Twist or Thumb Throttle
Pedal Assist Sensor
Freewheel (for rear kit)
Two Brake Levers with safety switches, V type and Disc brake compatible
Torque arm
Tube liner
Installation hardware and zip ties
Batteries not included
Shipping: Shipping to Hawaii, Alaska, APO, FPO, Puerto Rico will be extra. For shipping charges outside lower 48 US states contact us first.
Warranty: All items are covered under 3 month warranty.





Tags
Ebike Conversion Kits - Ebike Batteries - Ebike Accessories - Ebike Cables and Spare Parts
Payment & Security
Your payment information is processed securely. We do not store credit card details nor have access to your credit card information.
Customer Reviews
03/02/2021
R N.

United States
3 wheel e-motion!
My overall experience was amazing. Easy to order, fast shipping and great service. I first ordered the wrong style wheel and they took back the return with no problem and sent the one I needed right away. Packaging was sturdy and fit perfectly inside the box. It has a nice modern look with good construction and the color scheme goes perfect with what I picked! The Universal Installation for different applications works great! The installation went faster than I expected and all the parts were included. Definitely a DIY type project. This is a custom 3-wheel Schwinn Cruiser w/ 1200 watt Front Drive Hub guaranteed to help get around easier, quicker & in style! Max speed comfortably at 35mph!
02/18/2021
Richard D.

United States
Awesome Kit and Great Experience
First off this kit far exceeded all my expectations. I have the 1200W rear drive and got a 48V battery. Easily does well over 30mph. Everything fully functioned on the first try after assembly and still going strong 3 months later. This includes the pedal assist, brake cut-off, and LCD functions. What I didn't expect was the fun and satisfaction of putting together with my teenage son. With all the video stuff kids do these days most don't know one end of a socket wrench. He was excited to use real tools and it was so cool to see him fashion up a custom holder from a sheet of metal. Way more satisfaction and certainly less cost than buying a ready made bike. Plus the speed and range are incredible. One other thing, this has greatly expanded the range and number of friends my son visits and in these Covid days its amazing how it got him out of the house and in fresh air.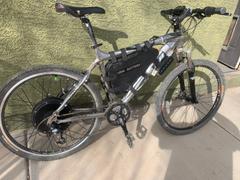 02/11/2021
Joe B.

United States
Amazing power!
After buying two of these and converting my wife's old Schwinn and my old mountain bike, we now have the fastest bikes in the neighborhood. Neighbors across the street bought brand new fully built ebikes with the 48v option, and they can't touch my bikes for speed or ease of use. I LOVE these things!