Roll over image to zoom in
Description
YOU CAN CONVERT ALMOST ANY BIKE INTO AN ELECTRIC BIKE
Affordable and powerful kit options, the comfort of the smooth installation process are only a few good things to start explaining what we're offering here at eBikeling.
We are offering a variety of power options that suits your lifestyle.
A commute, a day at the beach, or a late-night hangout with your buddies, you will enjoy the ride and make great memories on the way with Ebikeling.
Choose your bicycle tire size, easily convert your bike and enjoy your ride!
SPECIFICATIONS
The aluminum double-walled rim and hub motor are already attached in the box. Kits are ready to install right out of the box, all you need to do is replace them with the original tire.
The wheel axle diameter is 10 mm. Steel forks can be filed if the axle does not fit into the dropout because of its slightly larger diameter. Please do not file more than necessary and make sure that it does not damage the forks. Aluminum forks can also be filed with extra caution.
Aluminum rims have openings for a Schrader-type valve. The kit doesn't have a regen brake option.
The controller comes with an SY60 male-type battery connector (Compatible with XT60 connectors).
PAS/Brake Levers are optional. Kits will operate without them. You will be able to use your own brakes.
ENJOY THE COMFORT OF YOUR NEXT JOURNEY IN EVERY WEATHER CONDITION!
The waterproof ebike conversion kits are more reliable than regular ebike conversion kits in difficult weather conditions. They are designed to take a ride in the rain or snow.
FEEL THE POWER!
Still think you would struggle to ride in difficult conditions? Let us make your ride much easier. Oh did you say hills? Peh!
At eBikeling, we're offering you a nonstop adventure experience. No more brakes in the middle of your ride because you feel tired!

BATTERY IS NOT INCLUDED IN THIS KIT
(If you're interested in a complete kit with a battery, kindly check the "Ebike Conversion Kit with Battery" page)
Shipping: Shipping to Hawaii, Alaska, APO, FPO, Puerto Rico will be extra. For shipping charges outside the lower 48 US states contact us first.
Payment & Security
Your payment information is processed securely. We do not store credit card details nor have access to your credit card information.
Customer Reviews
04/02/2021
Mary J.

United States
Great product and service
Great way to add ebike power to your favorite bike. I had a question with the setup and they answered promptly and solved the problem. We bought a second kit for my wife's bike.
03/17/2021
joe m.

United States
1500 Ebikeling for 28" Giant Cypress
My kit went together with no big problems and I've taken it out for a few miles. The 1500 watt has a lot of power and speed. Not sure what the top end is but it will get to 35 mph quickly with plenty to spare. I'm guessing easy 40mph +. I bought a 52 volt battery for more power and distance and do not know how far I can go on a charge but I went about 10 or 12 miles, all fairly fast on flat ground, and batt. meter showed 100% charge remaining when I parked it. Build difficulty wasn't too tough but I've been working on bikes and motorcylces most of my life (I'm 67) so no big obstacles for me. I will say that the instructions are a bit vague but I received a prompt response to an email question I had and relied on the videos to sort out the other questions I had. It is very doable for anyone that has some mechanic ability and a little innovative thinking. Mine is a fairly late model bike so everything fit pretty easily. I did need to buy a crank puller for PAS widget, you could get the crank off without it but damage to the bike would be a good possibility so for me it wasn't worth the risk. This thing is a lot of fun and would highly recommend the kit as it is of good quality.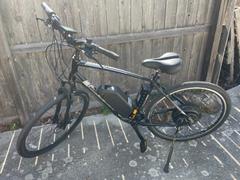 02/23/2021
Matt

United States
This Thing Moves - Easy to Put Together
Amazing E-Bike Store!! I got the 1500w waterproof kit and paired it with a 52v battery. This thing hauls! I weigh 195 and I go uphill without pedals without an issue. I usually keep it on level 2 maybe 3 if I really want to pick up the speed. I used it as a commuter bike riding around Atlanta and my commute is 7.5 miles one way so 15 miles round trip and I don't need to recharge at work. The kit was really easy to put together. This was my first build and I was a little nervous about putting together, so I wanted to get a kit that all worked together. To my delight all the connection points went together really well and everything just fit as it should. I use the thumb throttle that was the best for my setup. Customer service is really good. I had one issue with my bike where the break portion of the motor broke and they sent me out a replacement part from the factory that saved me from buying a new motor. This was above and beyond what I could have asked for. Will buy another kit from them.