Roll over image to zoom in
Description
Waterproof 48V 1200W Fat Tire 20" Direct Drive Conversion Kit: LED-LCD Display, Thumb-Twist Throttle
Introducing our 2019 model conversion kits. A complete waterproof system from connectors to the motor ensuring reliability and efficiency. We have also introduced new products like the S830 LCD display along with the 20" Fat Tire Conversion Kit
eBikeling Fat Tire Direct Drive Brushless Electric Bicycle Conversion Kits come with a 1200W hub motor and a 30Amp controller.
Kits are ready to install with aluminum double walled rim and hub motor are already attached. All you need to do is to transfer original tire.
We have two throttle control options to choose from, twist or thumb.
There are several other accessories included to complete this ebike kit such as pedal assist sensor, or a set of brake levers with safety cutoff switches.
Waterproof
The wheel axle diameter is 10 mm.  Steel forks can be filed If the axle does not fit into the dropout because of it's slightly larger diameter. Please do not file more than necessary and make sure that it does not damage the forks. Aluminum forks can also be filed with extra caution. 
Aluminum rims have openings for a schrader type valve.
Kit doesn't have regen brake option.
The controller comes with an SY60 male type battery connector (Compatible with XT60 connectors)
PAS/Brake Levers are optional. Kits will operate without them.
You will be able to use your own brakes and freewheel.
Recommended tire width: 4"
Rim Width (Inner): 80mm
Rim Diameter (Outer): 418mm
Rim Diameter (Inner): 380mm
Spoke: 78mm 12G Carbon Steel Copper Nipples
Rear dropout: 175mm
Rear Axle Length: 238.5mm
Motor Wheel Weight 15.8lbs
Motor Torque: 30 Nm Efficiency > 82%
Motor RPM (Nominal): 430 
Motor Hub Diameter: 242mm
Motor Magnets: 46 
Peak Power: 1.45kW
Operating Mode: S1
Package Includes
Direct Drive Brushless Hub Motor
Brushless Motor Controller (No matching battery connectors or adapters included)
LED or upgraded LCD Display
Twist or Thumb Throttle
Pedal Assist Sensor
Freewheel (for rear kit)
Two Brake Levers with safety switches, V type and Disc brake compatible
Torque arm
Tube liner
Installation hardware and zip ties
Batteries not included
Shipping: Shipping to Hawaii, Alaska, APO, FPO, Puerto Rico will be extra. For shipping charges outside lower 48 US states contact us first.
Warranty: All items are covered under 3 month warranty.




Tags
Ebike Conversion Kits - Ebike Batteries - Ebike Accessories - Ebike Cables and Spare Parts
Payment & Security
Your payment information is processed securely. We do not store credit card details nor have access to your credit card information.
Customer Reviews
12/31/2020
Jay R.

United States
Fat Tire Mini-Bike Is Awesome
This is a 20 inch fat tire conversion with 52 volt battery using the 1200 watt waterproof kit. I have used ebikeling products on many of my builds because they have great prices, fast shipping, and great customer service. They always help with questions and provide replacement parts if needed. I like that they now have components available such as wheels that can be purchased separately.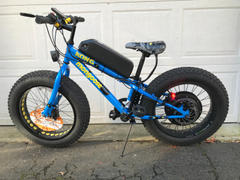 12/09/2020
John

United States
20" Fat Tire Kit
The overall experience was excellent. As to ordering etc, everything was done online and showed up on time. The kit was extremely easy to put together with the waterproof connections. Almost anyone could do this. The hardest part is adjusting your rear dropouts if needed and sizing a battery correctly. Also, these kits will run with 52V batteries with no problems. I do wish they would make more mounting options for their S830. I did this bike for my kids since I sold the electric go-kart and they absolutely love it. Unfortunately I think I am going to have to make a second one (twins). Please make sure you find the programming information for the S830 and understand how it works.